Hello Captains,

Now that you master the official version of the game, it's time to participate in a tournament to fight each other!
That's the chance to challenge your strategies with other players ; and to win a Nexium bonus and outstanding mothership skins!
Are you ready for battle? 
The tournament starts on Saturday, November 24th
At 3pm (UTC +1) on EU server
In this tournament, all participants will win a Nexium (NXC) bonus!
This is our way of announcing the launch of our new online gaming store in December. There, you'll be able to trade your Nexium for cosmetic items, such as outstanding spaceships skins or avatars. You'll be the first to test it!

▶️ If you're new to the game watch this short gameplay video to learn the basics of Beyond the void. Then, you'll be ready for the upcoming tournament, we're sure of it!
How to join the Tournament?
It's easy and free!
Enter the esport platform Toornament and select the tournament called: Ambro Cup#5 – Beyond the void online tournament.
There, we explained the rules and (most importantly!) we detailed the rewards that each participant will receive.😉
✅ How to register:
Sign up on Toornament 

platform

Join our official 

Discord

Please, wait for confirmation

Check-in on Saturday, November 24th, at 2:30pm to be ready to start the first round at 3pm

While you're playing your games during the tournament, don't forget to record or stream your games (if you can't, take a screenshot of your victory/defeat screen).
Then share them on the Community Hub on Steam.
▶️ How to watch the tournament?
The tournament will be live on the Beyond the Void Twitch channel (EN)

🏆 Prizes: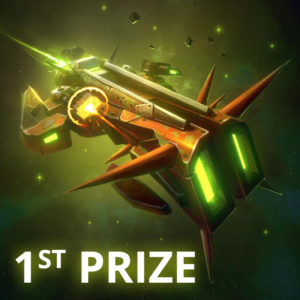 For all participants*  : 120 NXC + 0,005 ETH (about 3€).
Just what need to buy your first avatar on the shop!
3rd : 244 NXC + 0,005 ETH (about 5€).
Just enough to buy a common skin for your favorite mothership 😉 
2nd : 244 NXC + 0,005 ETH +  « Just Blue Excalibur » skin (about 9€)
1st : 431 NXC + 0,005 ETH + « Junkalibur » skin (about16€).
Wow, that's more than you need to buy a rare skin for your mothership! 

NB:

Nexium (NXC) token is used in our online store to buy cosmetics items like outstanding spaceship skins or avatars.

Ether (ETH) token is used to pay transaction fees in the shop.

Just Blue Excalibur = a common skin for Excalibur, the most played mothership

Junkalibur: = an amazing legendary skin for Excalibur mothership
🤩 The new online store will be live in December:
As soon as it's ready, we'll contact you via Discord, to give you the link to our refreshed gaming store. You'll be the first ones to use it!  There, you'll be able to create (or recover) your Nexarium wallet to collect your rewards (Nexium and/or skins).
Check the tournaments page to discover the name of the last warlords and watch videos from their stunning games in the last tournaments.
See you very soon on the EU servers Captains!